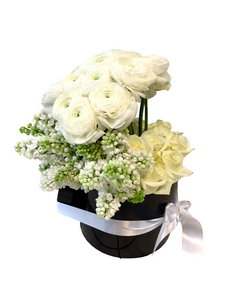 DESCRIPTION
N!]
An elegant arrangement of white flowers. A perfect gift idea to delight your loved ones.
DETAILS DU PRODUIT
This flower box contains a mixture of white flowers.
Due to the seasonality of some flowers, where necessary we will replace any flowers that are unavailable at the time of order for an alternative of the same colour, style and price. We select our flowers several times per week to guarantee maximum quality and freshness. To ensure that you can enjoy our bouquets for as long as possible, make sure you take good care of them.
LIVRAISON
Tous nos articles sont disponibles en livraison à Monaco, Cap d'Ail, La Turbie et Roquebrune-Cap-Martin. Nos horaires de livraison sont de 8h00 à 20h00. Pour les livraisons le jour même, les commandes doivent être placées avant 18h00 du Lundi ou Samedi, et avant 15h00 le Dimanche.